Roof And Deck Membranes
Double layer torch on system
Installed as two complete layers for a robust, reinforced waterproofing sheet. Both are flame applied membranes. A primer is applied onto the surface and then the bitumen roll is melted and rolled firmly in place. The melting process allows for a strong adhesion to the substrate and is a fully waterproof layer by itself. The cap sheet is applied on top of the base sheet in the same manner. Our suppliers offer this product in a variety of different colours and will assist in recommending whether the product is suitable for your project.
The application areas for this product are commonly for:
Single layer waterproofing membranes consist of TPO, PVC and Butynol rubber membranes, which have a more specified set of uses and areas of application.
TPO and PVC membranes
Having been tried and tested internationally and locally, TPO products offer absolute watertight integrity for low shaped and pitched roofs, gutters, parapets, pond liners, balconies, under floating decks and roof gardens of both residential and commercial buildings. TPO is applied using a contact adhesive, with the membrane being applied directly on top. The TPO is then heat welded together using a hot air gun instead of an open flame gas torch.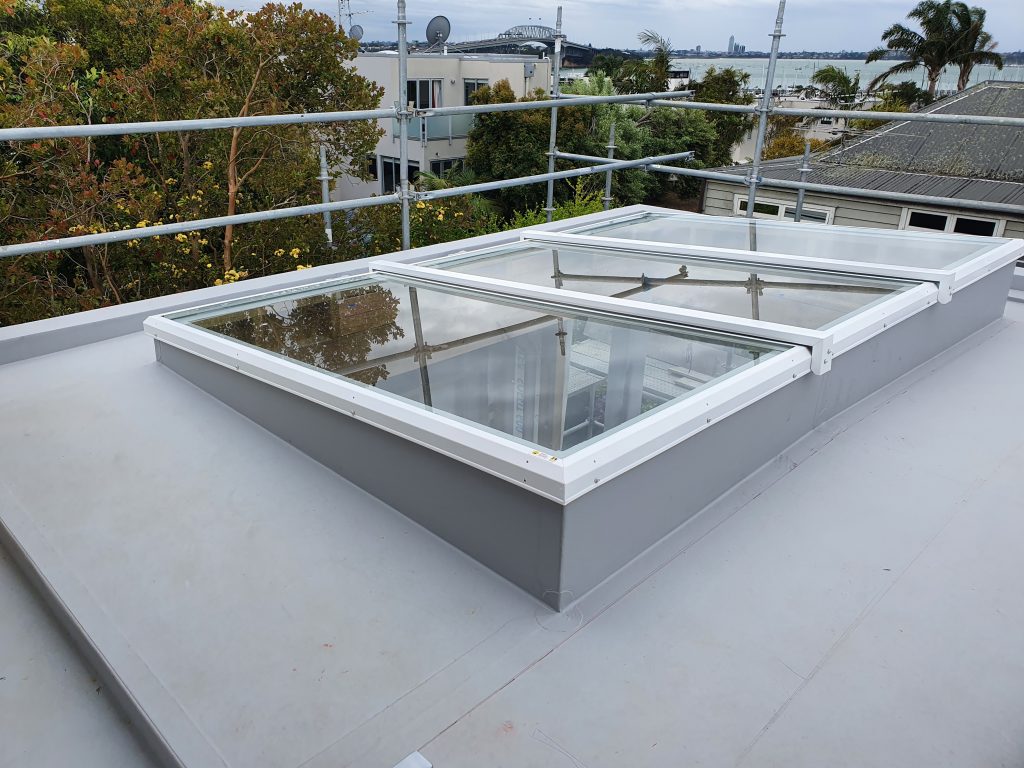 Butynol
Butynol is a single layer synthetic rubber membrane that can be used on roofs and decks. This product has a variety of thicknesses for the areas that it is being applied to, and a variety of colours to blend into the surrounding area. Butynol is applied using the same system as TPO. A contact adhesive is applied onto the substrate and the membrane is applied directly to the area as a heat gun welds it to the primer applied substrate.
Liquid applied membrane
Liquid applied membranes include epoxies, polyurethanes, acrylics, emulsions. Liquid waterproofing is the process of making a surface or object water resistant on given conditions by applying a liquid coating to it. The liquid coatings, whether single-component or multiple-component system are easy to apply and provide long lasting protection to a variety of substrates. When it cures, dries or hardens, the systems provide an excellent range of waterproofing benefits. For example a high-gloss finish that can significantly increase the brightness of interior areas, and the systems hard-wearing durable finished surface able to withstand heavy and continuous traffic.
See further information in Cohe Quick 2 Seal section
Sarnafil
Sarnafil is a PVC membrane that is used extensively worldwide. It is used on roofs, decks and planters. One of the products in the range has been specifically designed for green roofs or planters and the product is root resistant. All joints and laps are welded using hot air welding technology. Hydroproof has fully trained Sarnafil applicators, and we have all the relevant installation equipment.
Epoxy coatings
An Epoxy resin and polyamine hardener when mixed the chemical reaction creates a durable, rigid plastic coating.Cementitious membranes
Sika lastic 152, Mapei lastic smart
Acrylic membranes
Chevaline Dex, Polyurathane coating
Cohe Quick 2 Seal
Flexible self priming waterproofing membrane designed for application to decks, roofs, pipe lining, walls and gutters that require toughness UV stability and a high degree of protection from water ingress.
Can be used as high performance chemical resistant sealer, protective coating over substrates subject to flexing, weather, harsh environments and chemicals.
Product can be applied over galvanizing, butyl rubber (when cleaned thoroughly), fibreglass, acrylics, aluminium, dry timber and PVC.